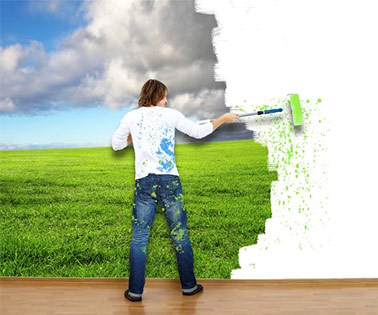 Do you see the artist painting his world wide open, natural and bright or do you see him whiting out his world?  Great question! What do you see?
At the NeuroImaginal® Institute we teach people to do both. "White out" or shift their image and re-imagine the NeuroImaginal® world they want for themselves, and to more fully see, feel, expand and fully engage with the world they live in.
We do this through a synthesis of research and practice from neuroscience, experiential therapies, indigenous healing and expressive arts for happier living and enriched clinical practice. You can enjoy vacation-retreats, workshops, short term phone groups, articles to expand your thinking, discussion groups, program design and staff training, or individual phone/video sessions for personal work or professional mentoring and supervision with NeuroImaginal® Practices.
We work with the general public, and focus professional development with Medical and Mental Health professionals, Educators, Artists and Bodyworkers – facilitating self-care first;  then teaching professionals to integrate increased creativity, imagination, embodied awareness, cognitive shifting tools and practical NeuroImaginal® skills into their scope of practice.
The NeuroImaginal® Institute has come into being as an outgrowth of over 70 years of combined clinical work in Mental Health and Medicine. The founding faculty, Lee Lipsenthal MD (1957-2011), Nita Gage DSPS, and Shannon Simonelli Ph.D., ATR have all come to this way of working through their own path of direct experience.
Shannon Simonelli Ph.D., ATR
Shannon grew up in Hawaii. She discovered years later, while in college in Utah, that she was deeply informed by the spiritual and mythic underpinnings of the Islands, that the rhythms, land and water of both these beautiful places formed and informed her perception, orientation and sensibility. Her development was an organic path of direct experience,  fueled by an early diagnosis of Hyperactivity (ADHD), Learning Disability and Minimal Brain Dysfunction (MBD) (1971). She struggled with traditional ways of learning, processing and sitting still, but loved what she loved.
Dance and movement helped her to get through school, building her brain, confidence and body. Being a natural day-dreamer, she took to journey work and trance based healing modalities easily. She found her way to creative expression through image and Art Therapy, she incorporated her life-long need to dance into her growing clinical work, and she discovered that because she is a mover she is a thinker.
Coming full circle, she returned to education, supporting teachers state wide in Hawaii with multi-model ways of working with all kids including those with disabilities. Over the span of 10 years Shannon also trained hundreds of Counseling Psychology graduate students to be more aware of their bodies, inner imagery and imaginal life as relevant to their craft. Returning to Mental Health she applied her integrative imaginal embodied way of working with a wide variety of patients in acute psychiatric care and day treatment.
Nita Gage DSPS, CSAC
Nita grew up on the Gila River Reservation in central Arizona, where she first was exposed to imaginal teachings from a friends Native American grandmother. The deep practice of shamanic spirituality rooted in the elements, imagination and community, amongst the Native Americans worked its way in and through her mind, body and soul. From the early seeds of this imaginal spirituality she continued to seek out learning opportunities that integrated imaginal spirituality with psychology.
Following this urge for mind/body/spirit integration she traveled to London, England in the 1971 to study with R. D. Laing where she stayed and trained as a psychotherapist for 9 years. Dr. Laing was a leader in the field of transforming psychiatry and psychotherapy through recognizing that individuals who are labeled insane, are responding, often to an insane system. The training with Dr. Laing incorporated shamanic journey, psychoanalysis, somatic awareness, yoga and body based practices and mindfulness meditation. After earning her Masters in Clinical Psychology at Fielding University and doing integrative imaginal work in psychiatric hospitals she pursued more learning in Shamanic journey-work and imaginal practice.
She left traditional psychology and devoted herself to working with imaginal practices, shamanic journey and a more Jungian approach to depth psychology and earned a doctorate in Shamanic Studies (DSPS).
In 1999, Nita partnered with Lee Lipsenthal, MD and developed the Healer Within Retreats to give physicians and other health care professionals an experience of integrative altered states of consciousness for their own resilience and burnout prevention. Her book Women in Storage, How to ReImagine Your Life is an outgrowth of supporting deep transformation in people she works with in her workshops and private practice.
Lee Lipsenthal, MD ABHM
Lee Lipsenthal, MD ABHM was a recognized leader, teacher and pioneer in the field of provider wellness. He was deeply loved and respected in countless communities for his knowledge, expertise, teaching, humanity, generosity and humor.
Lee Lipsenthal, MD ABHM and Nita Gage, DSPS, CSAC have shared a lifelong career passion for changing medicine and the way it is delivered. Their intention has been to enhance a holistic approach to medicine and healing for both the patient and the physician, where each can encounter complete mind, body and soul experiences.
In 1999, they conceived of a week-long retreat for physicians and their significant others in a beautiful and inspiring location, during which attendees could reconnect with their core values, each other, and beautiful surroundings, and lay the basis for a medical life more in balance. They chose an idyllic retreat center on the island of Molokai, known in Hawaiian custom as the place to send Kahunas and Shamans for training in leadership and healing. Thus, "Healer Within" Retreats was born."
Together these three have worked to forge the integration of these modalities and create the NeuroImaginal® Institute. We now call this synergistic way of working and conceptualizing health and healing: NeuroImaginal® Practice.
The Institute serves as an umbrella for sharing this powerful way of working as well as hopes to grow into a trusted gathering place for like minded and 'hearted' professionals and those passionate about NeuroImaginal® Practice to connect, share resources, discuss, submit writings, and find collegial connection. Please spend some time enjoying the articles, images, and offerings here and tell us what you think. If you like what you see, please share the site with your friends and colleagues and invite them to join our growing community.
Lee passed from cancer in September, 2011.